Throne of God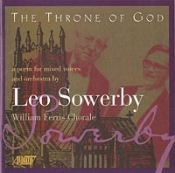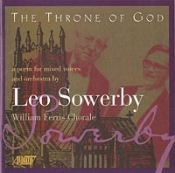 Throne of God
World premiere recording of Leo Sowerby's towering poem for chorus and orchestra. With texts drawn from the Book of Revelations, this masterpiece was composed for the 50th anniversary of the Washington National Cathedral.
Listen to a sample track:
Track Listings and Performers
Opening
And I beheld and I heard the voice of many angels….
And I looked, and lo, a Lamb stood….
And I heard another angel…
And they sang the song of the Lamb…
And after these things I heard…
Babylon the great is fallen…
And I saw a new heaven…
And I heard the voice of a great multitude
Alleluia: for the Lord God omnipotent reigneth…
Interlude - Thomas Weisflog, Organ
Fanfare No. 3 - Thomas Weisflog, Organ
Thy Word is a Lantern Unto My Feet
Ad te levavi animam mean
God Mounts His Throne
Come, Risen Lord
William Ferris Chorale / Composer Festival Orchestra / William Ferris, conductor.